Quiet operation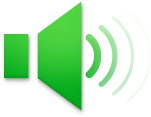 The scan noise has been reduced from 50dB to 43dB. No more noisy scanning disrupting your discussion or train of thought.
*As a point of reference, a quiet office is 50dB and the average library is 40dB.
Faster scan time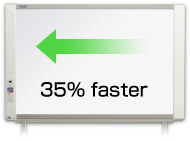 Color scanning now takes only 15 seconds - 35% faster than previous model.
Erase reminder function
You can set the Copyboard to scroll through the sheet when you turn it off - no more forgetting to erase.
* This feature is set to "off" as the factory default.
Save energy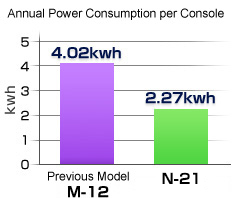 Previous boards have used 40W during operation and 5W during stand-by. The new series uses only 12W during operation and 3W during stand-by instead. You won't find a more energy-efficient board than this!
* Measurement conditions: Used at three one-hour meetings per day. Two screens were scanned at each meetings. The standard "S" model was used.