The MTG Sync board and the MTG Sync App combine to make optimizing and storing your meeting notes as simple as taking a snapshot.
Downloads
Main Feature
Optimize the snapshot with MTG Sync App.
The MTG Sync Board is optimized to work with the MTG Sync App. Using the App, simply take a snapshot of the whiteboard. The image is automatically corrected for keystone distortion using the unique frame recognition technology. The notes on the board are saved in a clearly readable portable size. Using the MTG Sync App, the notes are easily organized and shared.

Automatically correct the distortion of images taken at an angle.
When taking a snapshot of a whiteboard, it is often necessary to take the picture at an angle – perhaps in order to avoid the glare of light or due to some obstruction in the room. This results in distorted and blurred image that isn't ideal for keeping as meeting notes. Now, with the MTG Sync Board and App, you can instantly get the best result of the whiteboard information. Plus, advanced features of the App make it easy to organize the meeting notes.
※

Confirm the whiteboard well within the display before tapping the " Camera" button.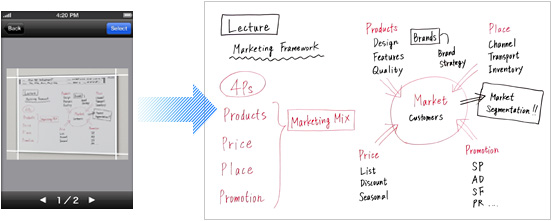 Use the template sheet to create and organize meeting notes.
Attach the magnetic template sheet to the whiteboard. Fill in the meeting information in the appropriate fields (Date, Title, etc.). When a snapshot of the board with the template attached is taken, the MTG Sync App automatically generates a thumbnail image of the template. This makes for easy organizing and searching. Furthermore, the five (☆) marks on the template sheet can be checked to indicate the degree of importance of a meeting. The App automatically recognizes the check marks and is able to organize images according to their star (☆) rating.
※

Using the App, the "Title" and "Date" can be entered via keyboard to the image information. This aids in organization and searchability.

※

The degree of importance, indicated by number of star (★) mark in the App, can be changed using the App .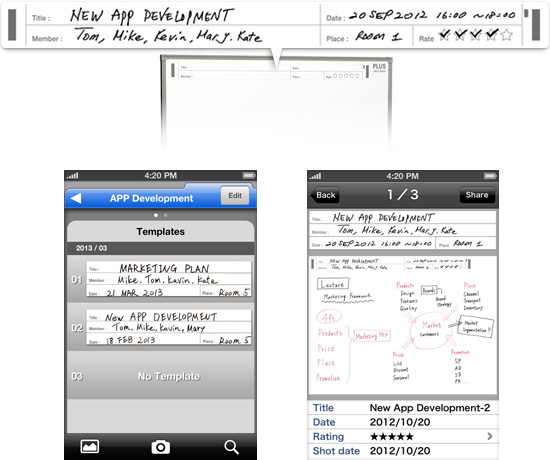 Save and organize meeting notes in folders.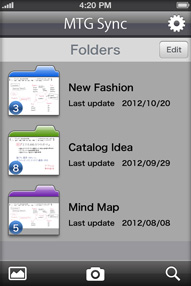 The App allows you to create folders for saving and organizing the image files. Folders can be added or deleted and folder names can be changed. Furthermore, files can be moved from one folder to another.
・

App Store and App Store logos are trademarks or registered trademarks of Apple, Inc.

・

Google Play and Google Play logos are trademarks or registered trademarks of Google Inc.

・

Evernote and Evernote logos are the trademarks or registered trademarks of U.S. Evernote Corporation.

・

Dropbox and Dropbox logos are the trademarks of registered trademarks of Dropbox, Inc.