Using the MTG Sync App
The MTG Sync board and the MTG Sync App combine to make optimizing and storing your meeting notes as simple as taking a snapshot.


Taking a snapshot of the whiteboard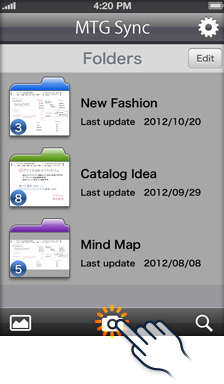 Start the MTG Sync App by tapping its icon. Then tap the "Camera" icon to enter the "Snapshot" mode.
For the first use only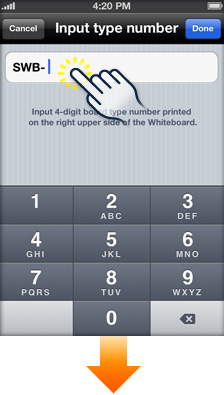 When the App if first used, it is necessary to register the type of board it is to be used with. This is done by inputting the 4-digit number located on upper right side of the whiteboard. (For example: SWB-1209)

The board type you entered is displayed in the "Snapshot" screen. If you wish to change to a different board, tap the "Board Type" button and enter the number associated with the new board.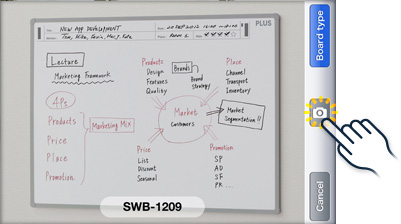 Tap the "Camera" button after confirming the whiteboard well within the preview display.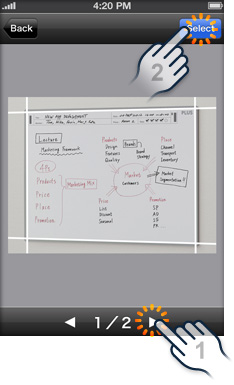 The App will detect the frame of the whiteboard, showing vertical and horizontal white lines.

Tap the "Select" button to display the processed image.

If the App detects multiple contours, it will show these as options "1/2", "2/2", etc. Tap the

icon to select the best result.

Saving the processed image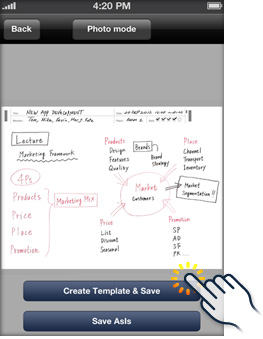 Select "Create Template & Save" to display information on the template sheet as a separate image thumbnail in the App.

If the template sheet was not used, select "Save as is".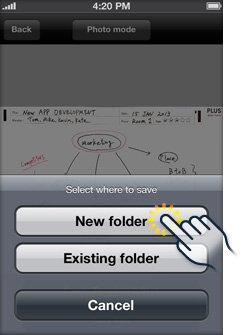 Select "New folder" or "Existing folder" to save the processed image.

Sharing the file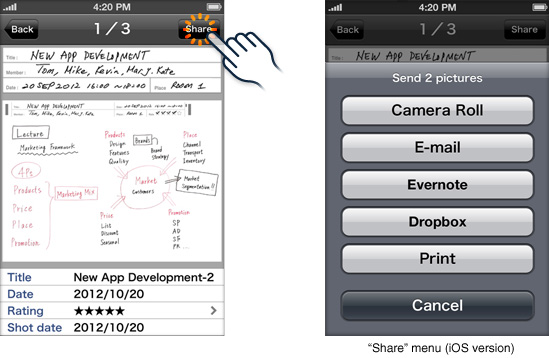 The "Share" button allows you to email the file, upload it to a cloud service such as Evernote and Dropbox, or export it to "Camera roll", etc.

To share multiple files at the same time, go to either the "Templates" or "Thumbnails" view and tap "Edit" button. Select the files you wish to share and then tap the "Share" button.