Download Catalogue
・

The information in our catalogues is subject to change without notice.

・

Please note that the products listed in our website may not be available due to such discontinuation of production or any other reasons.
PLUS Copyboard Catalogue
N-204 / N-20 / F-20 / C-20 / CR-5 / BF-041 SERIES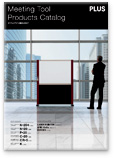 PLUS Copyboard Catalog[4.07MB]
*Includes some discontinued products: (F-20, CR-5, BF-041).
PLUS Copyboard Flyer
PLUS MTG Sync Catalogue
PLUS Whiteboard Flyer