Send scanned data securely by swiping employee ID card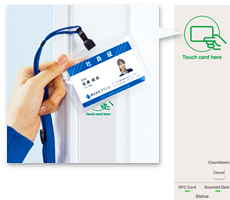 Simply swipe your employee ID card to email scanned data. This allows you to obtain scanned data securely, avoiding misdirections.
Up to 5,000 email addresses can be stored in the Copyboard (upload .csv file via web interface or available Mail Manager Software). Scanned images can be sent successively to different addresses without re-scanning.
Compatible generic NFC cards
MIFARE Classic 1K / Classic 4K / Ultralight
FeliCa Lite-S / Lite / Standard.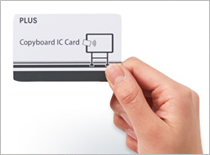 Dedicated IC Card initiates scan to send data to FTP Server. Information uploaded to the card via an IC Card reader on the control panel and web interface. Generic NFC can also initiate save to FTP server using existing email address information (set via web interface or Mail Address Manager)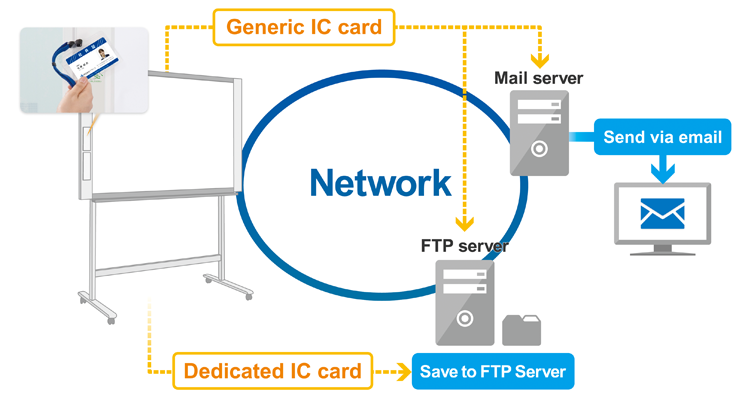 Work with LDAP server
LDAP (Lightweight Directory Access Protocol) server provides directory services such as "Active Directory" that centrally manages information about network users (personal names, department names, email addresses, etc.) and information about devices connected to the network using a database.
By utilizing LDAP server, after swiping an employee ID card, the N-32 can looked up related email address via LDAP server to send a scanned data. Since it is not necessary to register email addresses to the N-32, database management can be simple and secured.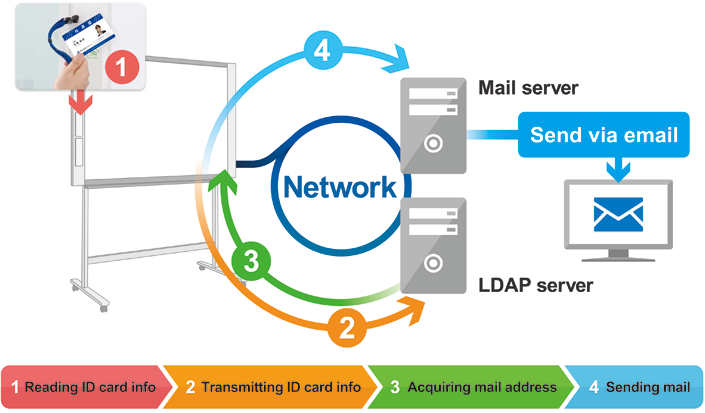 Designed to secure information
The N-32 are designed to minimize the risk of information leak. Scanned data can be sent only by swiping registered IC card, avoiding human error such as button operation error. Beside, no scanned data saved to board memory.
Dedicated software "Email address manager"
By using "Email Address Manager", you can register, update, and delete e-mail addresses for multiple N-32 connected to the network.
Furthermore, with the latest version, you can register and change settings of the external authentication server, and can configure settings of the N-32
*

The latest version is 1.3.0.0. Please download this version or later.
Functions of "Email address manager"
•

Login to the board remotely

•

Auto search and specification of board IP address

•

Read and save board list file

•

Acquisition of registration information (IP address, terminal name, number, date) of each board

•

Status display of each board

•

Update / delete email address information

•

Update of user management information

•

Update the device settings

•

Update header footer settings

•

Log output

•

Registration of external authentication server, change of setting