Direct computer connection
With a USB cable connection, save your information straight to your computer. No special software is needed, the board is compatible with all operating systems, and only one page of data is saved for added security. When you remove the USB cable, your data will be automatically erased from the board's memory.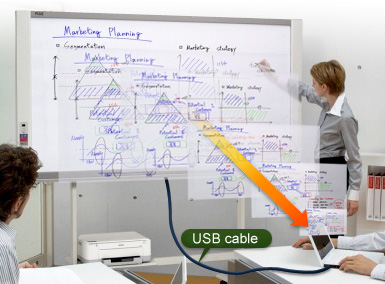 Front-facing USB port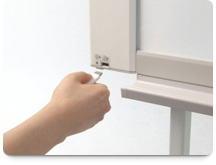 The USB port is front-facing making it easy to insert your USB memory stick. At a glance you can see which way to insert the USB memory stick. A 1GB USB memory stick will hold around 4800 pages.
*Capacity of USB flash memory corresponds to 32GB or less is recommended. exFAT and NTFS formats are not compatible.
3 file formats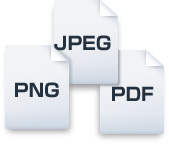 Save in PNG, JPEG or PDF formats. View the file on your computer, attach it to an email or paste it into a document.
Print on Plain Paper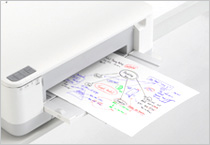 Print directly from a connected printer on plain paper in color.
Disable color printing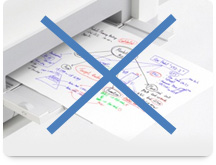 You can disable color printing mode if black and white only is preferred.
No special software
The board is accessible via a web browser and all board settings (file format, date settings, resolution etc.) and security settings can be configured in a browser on your computer. You don't need to install special software. The board is compatible with all operating systems.
* The settings can also be changed using the board's control panel.